Hello Guys. I hope all of you are safe and secure in the ongoing pandemic. So, today we will tell you about the Best Litespeed Hosting available in 2021 and the types of servers that are available on market for hosting.
Well, a web server is a combination of software and hardware which stores essential components of a website. The hardware stores text, images, music, and video, and the software work as a request reader(request of URL from the user).
Well as you all might not know that there are 3 types of web Servers:
Apache Server- A free-to-use WebServer that is not that fast but it can accept multiple or dynamic requests from the user to show on the website.
NGINX Server- A free-to-use WebServer that is best for you if you host a single website on it, if you are hosting multiple websites then NGINX might act a bit sluggish.
Litespeed Server- A better solution for apache and NGINX servers, but Litespeed is paid and it is the best type of WebServers available.
What Is LiteSpeed Web Server?
LiteSpeed web server's stable version released on March 22 2021 and on total 10% or more websites use LiteSpeed Web Server and there's a reason for it.
A type of web server which allows customers to feel extremely fast loading of their websites which will help you rank better on search engines.
With the excessive use of the internet and websites our servers are running low on efficiency, then a litespeed web server is the right solution for you. The company made these servers with many efficiency booster modules.
LiteSpeed web servers are not free to use, they cost you some amount to use their services but there's a free version also available and in that you can host one domain.
Litespeed servers are good for you because:
High Availability
Apache Compatibility
High on Security
Easy To understand
Latest Features
Better Performance
CloudLinux Compatibility
Why Is LiteSpeed Web Server So Special?
Litespeed Hosting are known as the fastest known web server because they are reliable support for new technologies before anyone else with a plus point that it Reads Apache config files directly and supports .htaccess, WAF. 
It doesn't stop here it supports multiple control panels like cPanel, Plesk, DirectAdmin, CyberPanel, and more.
Litespeed uses advanced server level cache with a hole punching through ESI and Stable Mass Hosting Support with an add-on of defence from DDoS attacks no matter how much size they have.
Litespeed also promises a graceful restart and with proper software update and most important zero downtime.
Here are some points why Litespeed Hosting Web Servers are so special.
HTTP/2, QUIC, HTTP/3
Apache Drop-in Replacement
Zero-Downtime Maintenance
Event Driven Architecture
Mass Hosting Support
Control Panel Compatible
Server-Level reCAPTCHA
LiteSpeed Cache
LiteSpeed servers use cache to work more quickly and they have given a separate server called LSCache which is a server-side page cache. This basically means that it is storing static screenshots of the web pages on your WordPress Site.
Litespeed servers can do this because they have dynamically-generated pages which are effectively the same each time they are built. 
Litespeed cache engine is a built-in, high-performance dynamic content acceleration feature of LiteSpeed server products.
LiteSpeed Cache module is available for:
Magento
WordPress
Joomla
XenForo
MediaWiKi
Craft CMS
LiteSpeed V/S NGINX
If you have ever searched for Web Hosting then you might have watched a number of companies advertising their Web Hosting with what type of servers they are using.
The most frequently used web server is Apache but there are multiple alternatives available on the market but the most reliable ones are LiteSpeed and NGINX.
Below you will see a TTFB( Time to First Byte) test between LiteSpeed and Nginx
As u can see that LiteSpeed is actually very fast and its response time is also very good.
Winner is Obviously LiteSpeed because it has better TTFB as we have compared above with NGINX, it started from saving 50ms to 150ms to remote regions. WEll Google Recommends have a TTFB of <300ms.
Pricing also plays a major role, NGINX is free and can accept mainly static requests from the website. NGINX Plus, Single Instance, Starting at $2500per year while on the other hand Litespeed will cost you 46 Dollar per month.
Best LiteSpeed Hosting Providers
There are so many companies available that say we are the Best Litespeed Hosting company but trust me there are so many liars there in the market.
But we will help you choose the right LiteSpeed hosting provider available.
1. YouStable | Most Optimized LiteSpeed Hosting
YouStable uses true LiteSpeed servers to give you a flawless and immense hosting experience, this is an India based company which provides the most optimised and most affordable liteSpeed WordPress hosting.
They use the latest Infrastructure, Superior Speed, Personal dedicated support, Cheapest prices ever.
What you will get with Youstable Litespeed Hosting:
Websites- 1 to 10
SSD Disk Space- 10 GB to Unlimited
Bandwidth- 100 GB to Unmetered
Cloudflare CDN
Malware Scans & Removal
Litespeed
DDoS Protection
Free SSL
2. Interserver | Best Overall LiteSpeed Hosting
Interserver is good hosting provider with easy-to-use control panels and decent speed optimized and up to unlimited storage space with free site migration.
Their services start from a minimal pricing of:
Unlimited ULTRA SSD Storage
Unlimited E-Mail Account
30 Days Money Back Guarantee
Free SSl Certificate
Free Site Migration
3. A2 Hosting – Best LiteSpeed Hosting for Performance
A2 has been in the market since 2001 and known for its uncompromised customer service, but it's not just customer service, it's their pricing and many other things.
| | |
| --- | --- |
| SPEED: | 285 ms (April 2020 to March 2021) |
| UPTIME: | 99.97% (April 2020 to March 2021) |
| SUPPORT: | 24/7 Live Chat, Email, Phone, Ticketing |
| APPS: | WordPress, Joomla, Drupal, OpenCart, and Magento |
| FEATURES: | Unlimited Bandwidth, Free SSL, Cloudflare CDN, Anycast DNS, Anytime Money-Back, Website Staging, DDoS Protection, and more |
| HOSTING PLANS: | Shared, WordPress, VPS, Reseller, and Dedicated Servers |
| SITE TRANSFER: | Single Free Site Transfer with Shared Hosting ($10/site afterward) |
| PRICING: | Starting at $2.99/mo (renews at $10.99/mo) |
4. Hostarmada – Most Upgradable LiteSpeed Hosting
Website loading speed and performance are perhaps the most highly sought after metrics amongst clients when it comes to their online projects.
They bring benefits, such as a more pleasant user experience (UX) and most importantly, better website rankings in search engines such as Google, Bing, Yahoo, and others.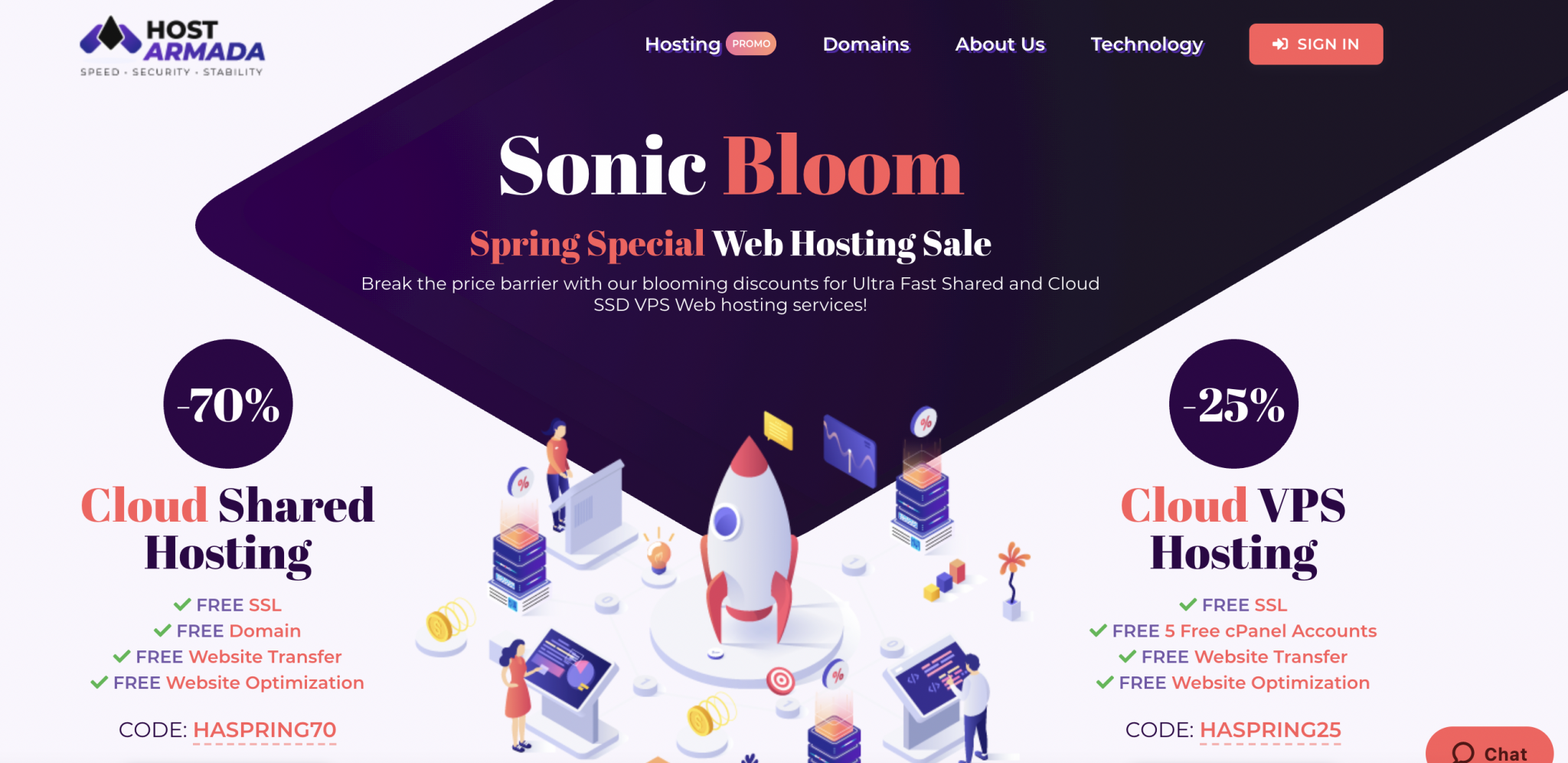 In this article, we are going to list all the gains your website accumulates from being hosted on each of our hosting plans.
Unmetered bandwidth
cPanel
Cloud SSD Storage
Free SSL certificate
Daily backups
Free domain name
Free site builder
Softaculous 1-click installer
And in the given below image you will get a brief for their pricing plans.
5. GreenGeeks– Good Performance but Poor Support
GreenGeek is also a very famous hosting provider which was established in 2008 by Trey Gardnerand they have hosted almost 300000 websites and they have servers in many countries.
Some additional information is given below.
| | |
| --- | --- |
| SPEED: | 487 ms (April 2020 to March 2021) |
| UPTIME: | 99.95% (April 2020 to March 2021) |
| SUPPORT: | 24/7 Live Chat |
| APPS: | WordPress, Joomla, PrestaShop, and WHMCS |
| FEATURES: | Unlimited Bandwidth, 50 GB Storage, and  Email Accounts, Free Domain 1st Year, Backups, Free SSL, Unlimited Databases |
| HOSTING PLANS: | Shared, WordPress, and Reseller |
| SITE TRANSFER: | Free Site Transfer |
| PRICING: | Starting at $2.49/mo (renews at $10.95/mo) |
6. TMDHosting – Average LiteSpeed Hosting
A rich hosting, they cost more, even if you choose the lowest starting plan which is $8.95 but they give superior customer service and many hosting options are available there like shared, VPS, dedicated and cloud.
TMDHosting is a featured-expensive web host that offers all the tools you need to build functional and beautiful websites. In the given image below you can easily see the packs available at what pricing.
6. WPX Hosting – Optimized for WordPress Hosting
There are many reasons to choose WPX Hosting some of them are
Lack of knowledgeable support
Slow server performance
Lack of flexibility and features
Complex hosting admin areas designed for computer science postgraduates not real people like us Web entrepreneurs and small online business owners
WPX Hosting offers 3 variations in their plans, Business, Professional and Elite
Litespeed Web Server Advantages and Disadvantages
As we all know LiteSpeed is a very good but expensive web server so here we are going to talk about the Pros and Cons of LiteSpeed WebServer which are called as the fastest web server for best hosting.
FAQ's
Is LiteSpeed better than Apache?
Yes Litespeed WEb Servers are better than Apache Web Servers
Is LiteSpeed free?
Yes, Open Source LiteSpeed is free but you'll face some performance issues with the free version.
How do I install LiteSpeed?
Below we have Explained how you can Install Litespeed on your Hosting
1.Install LiteSpeed WHM plugin
2.Install LiteSpeed Web Server from within WHM
3.Build matching PHP binary
4. Start LiteSpeed again
Is LiteSpeed offered on shared hosting plans?
Yes, for example YouStable Gives litespeed servers on shared Hosting.
What are the disadvantages of LiteSpeed?
Expensive license, The free version is limited and poorly documented.
Conclusion
If you are planning to host your Web Site from LiteSpeed web server then you are choosing the right one because as the industry is growing,
traffic is increasing so its better to opt litespeed which will easily handle all your traffic but there's a problem, LiteSpeed servers are not free to use you can opt for OSLS web server but resources will be limited.
The best LiteSpeed Hosting Provider is YouStable in my personal opinion, because the use true LitePeed Servers with no additional costs.
Start LiteSPeed Hosting Now😋!
#Faster #LiteSpeed #Hosting #Providers